With a consistent focus on quality, we offer more tasks for less cost. We carry out manual and operational tasks that are critical to our client's business needs, when they need it and the way they need it. We aim to be the most trusted task execution agency. We are constantly looking for talented people to join our team but more than talent, what we look for in a person is respect for our company's values. So if you think you have what it takes to be a MoreTasker, go ahead and apply and we promise you an exciting ride that'll be one of its kind.
Set up in 2016, MoreTasks had 10 employees a year back, and now we are a family of about 60. Inspired by the Dutch work culture, we believe in a flat organizational structure. No cabins, no cubicles, and no hierarchical discrimination. We work, play and party together. While a lot of Indian companies boast of having an open door policy, most fail to actually practice it in essence.
More Tasks has extensively worked with European clients and hence is well-inculcated with values and principles of customer services prevailing in Europe. Our workforce is young, vibrant and passionate toward serving our customers.
Customer First:
Delivering the output to the highest satisfaction of the customers is our driving moto.
Striving Excellence:
We strive towards amplifying the reasons for a customer to bank their faith in us. Constant improvement is inbuilt in us.
Innovation:
Perpetual exploration and identification of business spheres, technologies, tools, and digital solutions is our way to find innovation and smart solutions for our clients.
Talent with Passion:
We train our resources with the best soft and technical skills so their passion is further equipped with the talent to meet customer expectations.
Respect:
We value our commitments and the expectations that our clients share with us.
Transparency:
With proven governance processes & management methodologies, we have a system built for transparency.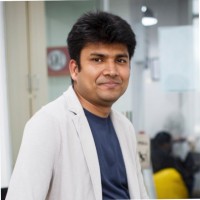 Sumit Agarwal
Founder and Operations Director
International Business Development and technology with 7+ years experince in Mobile and E-commerce product. Started Moretasks with just 2 people as a team, since then we have grown exponentially, now we are a team of 100+ people. Relationship Management, passionate professional, communication and organizational skills. leading operation skills in E-commerce, travel industry.