At Clari, we are at the forefront of AI and automation to help companies make better business decisions and improve sales execution with real-time access to actionable analytics and predictive insights. We have been declared as a must-have in establishing revenue confidence for customers during unpredictable times. Clari's Revenue Operations platform is currently processing over $300 billion in pipeline, and is used by over 50,000 marketing, sales and customer success professionals across 170 countries such as Okta, Zoom, Medallia, Adobe, and Atlassian. Together, we help others realize their fullest potential by transforming their revenue operations to be connected, efficient, and predictable.
You'll often hear our CEO talk about "Being Remarkable". To Clari, remarkable means many things. First and foremost, we believe in providing work that's interesting and meaningful, in an environment that's nurturing and inclusive, that is free from discrimination for each and every team member without regard to race, color, religion, sex, sexual orientation, national origin, age, disability, gender identity, or veteran status. Efforts have to be recognized. Voices have to be heard. And work/life balance has to be baked into the very fiber of the company. We are honored to be recognized by Inc. Magazine and Bay Area News Group as a best place to work, several years running. We'd love to have you join us on our journey to remarkable!
Web Application Front-End
Ruby on Rails
Client-side MVC using Ember.js
REST API implementation
Application Back-End
Jetty web server
Jersey Java REST implementation
Toolkits for Machine Learning, Analytics
Elasticsearch
Our culture is rooted in these five values. They make Clari a unique place to work and help us to accomplish amazing things together:
Garage State of Mind

: Clari was born in a garage, and we continue to embrace that

Garage State of Mind

, dreaming big, being agile, and always innovating

Charge:

We know success is ultimately a function of how well we execute, so we dream big and then

Charge

ahead to achieve remarkable things

Jazz Band

: Like a

Jazz Band

where harmony and improvisation come together to create something beautiful, we win through both tight collaboration and trusting individuals to take chances without fear of failure.

Dish Assists:

We win together as a team so you can always count on

Dish Assists

from your fellow Clarians to help you succeed and make an impact.

One With Customers

: We strive to always be

One with Customers

. We want to play a key part in making every Clari customer, every Clari user a rockstar, because when they win, we win.
Andy Byrne
CEO
Andy Byrne brings over 25 years of experience in sales, marketing, business development and management to his position as CEO of Clari. Prior to Clari, Andy was part of the founding executive team at Clearwell Systems – Gartner's highest ranking e-discovery company – which he helped grow from pre-product & pre-revenue in 2005 to $100 million run rate until its acquisition by Symantec (SYMC) in Q2 2011. Prior to joining Clearwell, Andy co-founded Timestock, Inc., which was acquired by Computer Associates (CA) via the acquisition of Wily Technology. Timestock delivered world-class enterprise application management solutions to large Fortune 500 corporations. Before Timestock, Andy held sales, product management, and marketing roles at VitalSigns Software, later acquired by Lucent Technologies. Prior to VitalSigns, Andy held sales management positions at Bay Networks and at MiLAN Technologies, which was later acquired by Digi International. Andy holds a BS in Economics from the University of Nevada and received his MBA with honors from San Jose State University.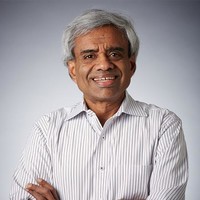 Venkat Rangan
Co-founder and CTO
Software executive and technologist with over 36 years experience (22 years of executive level) experience leading, designing, architecting software products for enterprises in product organizations of various sizes ranging from early stage startup, high-growth phase as well as large enterprises. Broad experience in all aspects of product development, management and leadership in all stages of product and company development. I am currently involved in building Clari Inc., an exciting new company reimagining enterprise software by combining a new level of user experience with cloud technologies and data science to reinvent the enterprise data and application stack.
Sanjay Mahalingam
Director - Clari India
"We saw 5x increase in forecast accuracy and speed. Clari simplifies the process so we can focus on the business."